1-2-1 SWIM COACHING
Limited places now available...


The efficiency of your technique will ultimately limit the speed that you swim at - no matter how many laps you put in at the pool! Many swimmers improve quickly and reach their "natural" level through their own application and commitment.

However, you can remain on this plateau for years potentially, without significant improvement, unless you undertake to re-develop the technique that is programmed in your brain!

For those who are relatively new to freestyle or front crawl, the challenge maybe somewhat simpler (but no less daunting) – to swim easily for length upon length like those people in the fast lane!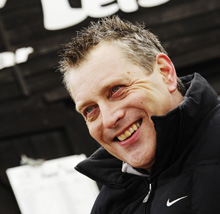 Swim coaching is undertaken in the pool alongside the athlete and is based on an individual improvement plan to assist you in accomplishing your goals for the season. The series of one-hour individual sessions are on a weekly or fortnightly basis using proven techniques to help you enhance your stroke and to help you learn to swim more effectively. Ideally you should be able to already swim at least 8 lengths freestyle continuously to maximise the effectiveness of this form of individual coaching.

If you are not able to swim this far (even slowly) then we recommend the swim coaching days as a starter!

In any case to make the most effective uses of the 1-2-1 sessions it is strongly recommended you start with a Swim Course as this enables a lot of groundwork on technique to be put in place. It is an ideal way to make the most from the pool coaching - click on link tab for full details!

All sessions are priced at £40.


Please email your interest, the level of your swimming and whether you are available for morning sessions in West London. Also please note that we have a lot of athletes on the books and availability is sometimes limited..