SWIM CLINIC 18th April 2020
Ernest Bevin College, Tooting, London
T3Performance is again using Ernest Bevin College as the venue for this years swim courses. The college has a superb and modern 25m four lane pool which is ideal for coaching as well as great lecture facilities!

The SWIM CLINIC is on Saturday 18th April 2020 from 12:45pm until 5:00pm

**** NEWS - Our last clinic was full so to avoid missing out book early! Please email us with your interest and we will send a booking form for you to register! ****
BOOKING
The swim clinic fee is only £65! but you need to EMAIL us to book ASAP as this Swim Clinic will sell out!

Please EMAIL us for a booking form to request a place on the SWIM CLINIC on 18th April 2020 Swim Clinic
BOOKING OPEN - EMAIL NOW!!!

SWIM CLINIC OVERVIEW
The swim clinic is aimed at giving swimmers the tools to improve and to make changes to their freestyle stroke. To do this it is important for swimmers to start to understand technique and how technical swim drills can applied to their swim programme for optimal benefit.


Click on PDF for Swim Clinic Download


The swim clinic mixes practical and classroom sessions and uses well respected, top level specialist coaches with low swimmer to coach ratios.

With four lanes the clinic can accommodate a wide range of abilities and in addition as the pool sessions are based around skills and drills the swimming is not overly dependent on your swim capabilities or speed.... however we do have a minimum requirement that you are capable of swimming at least 150m (4-6 lengths) of freestyle without undue stops... it matters not if it is very slow (that is what we aim to help with!)

Our coaches are all experienced qualified and respected coaches. The number of coaches on the day will depend on the number of swimmers booked on the course, but we will aim to have around 1 coach per 5 swimmers (max) spread across the 4 lanes.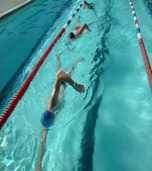 12:35pm Registration
12:45pm Technique simplified(Classroom)
14:00pm Swim session (Pool)
15:45 pm Video Capture (All)
16:05pm Video Analysis/ Tips (Classroom)
16:50pm Questions & Wrap Up (Classroom)
17:00pm Close

Questions & Answers
What is the swim course about?
It is a swim technique course and is aimed specifically at triathletes wanting to go the distance and swim freestyle FASTER! The swim course will cover areas such as improving balance, reducing drag, better breathing and getting more grip with your stroke!


What exactly does the course cover?
The swim course covers the golden rules of swimming, swim platform and stroke mechanics. We will also explain how to increase your efficiency in the water and identify the areas which you need to work on.

What are the objectives of the day?
Like any good course, the day sets out some key objectives! Firstly, to improve your understanding of technique so you can go away and improve your swimming speed through more structured and focused training sessions. In addition, we aim for you to gain a new "feel" for the water in a way you may not have experienced before!

What levels of ability is it aimed at?
All levels are welcomed - the format of the course is technique based and is not a training session! We have four lanes to enable us to cope with all levels of swimmer. In addition the session format allows us to coach a mix of abilities.

Do you video everyone?
We aim to take short clips of everyone during the clinic so swimmers can see a snapshot of how they look! If swimmers want to have fuller video and swim analysis there are options for this for around 6 or so swimmers with a post course DVD - see below.

Will I get sample swim sessions and drills to practice?
Yes there will be specific further information and swim drill packs available as a stand alone extra or with the DVD Swim Analysis.

How much is it?
The coaching fee is only £65 and this includes a full pack of notes for the course which provides a reference pack for technique and training.

Can I have a full video swim analysis?
Yes - We have the capacity to take additional footage of around 6 swimmers for the purposes of a post course analysis on DVD. The DVD will contain all the footage and highlight key areas of improvement for the swimmer. The cost of the additional full swim analysis is £45 and is on a first com first served basis.

I am not very good swimmer – will I cope?
Absolutely, providing you can swim 4 lengths (even slowly!) you will get a lot out of the afternoon. We never swim more than a couple of lengths at a time as we are working on technique so it is not physically demanding in that way.

What will I learn compared to just having a lesson or two?
The day mixes theory and practical sessions which provides a platform for you to go away and structure your swim training more effectively and armed with not only a sound knowledge of areas that need work but also how and for what reason you are working on them!

How much of the course is in the pool?
We have a two hour pool slot during which time we will look at your technique and explain corrective swim technique. You will not be swimming all of this time (so don't worry!)and the swimming is light and based around drills and skills.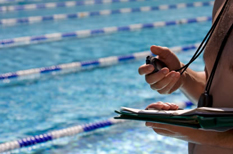 SWIM CLINIC VISITING COACHES
From time to time we invite guest coaches to the clinics depending on timing and availability - ask for details for the clinic you are interested in.

Bruce Lawrie
A former member Scottish Senior Swimming Squad, Bruce started swimming age 11 and has won a multitude of national championships both in GB and abroad with two Masters World Records to his name.

Bruce is also an experienced and accomplished swim coach and an ASA qualified Swim Coach/Teacher and a graduate from the American Olympic Coaches training program at Colorado University, USA. His coaching experience includes English Swim Team Coach as well as head coach at many different swim clubs. He has coached over 50 international swimmer and medal winners from national level all the way through to Olympic level.

In addition he has been a director for three world class clinics: Bruce Furniss Stroke Clinic, Doc Counsilman Swim Clinic and the Jonty Skinner Swim Clinics.


Marianne Lawrie
Marianne is a qualified ASA teacher and was assistant coach at Stockport Metro. She is Danish Record holder in 400 FC for 50-54 yrs, and a member of European Record Holder Team for mixed 4x200 FC team aged 240 plus.
What people have said about the swim course!
Darren - Oct 10 2010 Swim Course
"My swimming experience till the age of 12 was pretty formal, but any swimming after that was generally doing 'life saving', surfing or swimming in the sea (the pleasure of living and coming from Guernsey) and only swimming on holiday for the last 12 years after that until this year.

So my understanding of swimming drills was definitely lacking and your course has definitely opened my eyes and understanding to how I can do drills to improve the weaker parts of my technique.

I have started to practice the drills during each swimming session (not managed to hit the 3 times a week yet!) and my swimming now is a lot more interesting!!
(I can almost do catch and half catch up smoothly now, .almost! .).

My plan is to concentrate on technique this winter - so will definitely be interested in a follow up session next year

Ben - Jan 2011
Overall the course was excellent and without doubt the single best financial outlay I have made in respect of improving my technique, and therefore times, in any of the triathlon disciplines!!!"