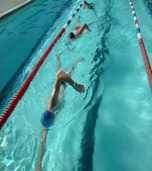 WHAT PEOPLE THINK OF US!
Des Moss - Age Group Triathlete from 2013 Swim Course

"I just wanted to say a big thank you to you and your team. My swimming has come on leaps and bounds since your course in April. Before the course I could barely swim a couple of lengths front crawl with no technique whatsoever.

I've since done a couple of open water swims up to 3k all front crawl and yesterday completed the London Triathlon. My swim time for the mile was 40 mins dead. Not fast by any stretch but considering the last time I did it my swim split was 1 hour 6 mins it's a massive improvement.

Thank you!!
Des
"
Audience comments from Tri-Expo
"I've already been able to put some of Andrew Potter's swim technique advice into practice earlier today and took 30sec off my recent time for 400m!"

"Andrew gave me some good tips about swim technique and illustrated them with video footage, so I finally realised what those books were talking about!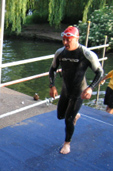 What our athletes say!
Marc Atkinson (Windsor age group winner and now multiple Ironman athlete)

"I had a few lessons at school but knew I wasn't ready to swim, aged 41, with over a hundred other people without the benefit of coaching. Fortunately I found Andrew - all I can say is if it is the one thing you do on the addictive triathlon trail, seek him out and learn from him. Sounds corny but after being through Andrew's programme I really look forward to the swim and there is nothing better than being one of the first out of the water!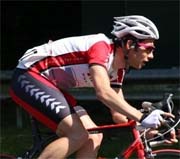 John Heaton-Armstrong Ironman France 3rd in agegroup

"I was really refreshed by the approach Andrew took as a coach, and noticed immediately the marked improvements that his advice was having on my swimming. I started lessons with him in the off-season, and so did not have an opportunity to review the effect in a race situation until last weekend. Having only been a 25min 1500m swimmer, at IM France I swam 51mins for 3.8km and was in the top 100 out of the water, all in my first Ironman. This was mainly due to the careful analysis of my stroke and constructive advice which came from Andrew - I can't recommend him highly enough."
Karl Matthews Newbie Triathlete now Half Ironman!

"I entered the Big Half Triathlon 05 at the turn of the year having only raced sprint before.. while the thought of upping the distance in the other two disiplines filled with with joy the thought of swimming 2000 meters open water made me very very nevous.
I got in touch with Andrew who's very professional and friendly approach put my mind at rest. And through a 8-10 week training program we worked on all disciplines of the swimming technique and I actually looked forward to swimming, something I never thought would happen.
Now I have successfully completed my first Half Iron I am sure to use Andrew when I eventually up the distance to Ironman."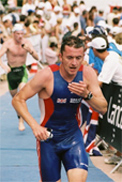 Euan Lees 2005 World Age Group Team, Ironbridge Triathlon 1st 2004, European Championships 2004 30-34 age 6th place

"I started training with Andrew in October 2004, looking to improve upon a swim that was already reasonable (around 21:30 in olympic-distance triathlons last year). I was immediately impressed with his analysis of my stroke and insight into how to improve it, and also his athlete-focused approach that includes getting into the water and swimming alongside to see all aspects of the stroke. Andrew is a highly effective coach no matter what level the swimmer - I have watched him work very well both with novices and with top-notch athletes. In particular, for triathletes looking to improve their open-water swimming I have seen no-one better.

On Sunday 12th June 2005 I swam 20:00 at Shropshire Triathlon, smashed my olympic-distance personal best with 1:58:29 and qualified for the age group world
Championships in Honolulu. Andrew's coaching has been a huge part of this, and I'd recommend him to anyone!"
Niamh Power - Her First Triathlon following a six week swim programme!!!!

"I wanted to let you know that I did the London Triathlon Olympic distance on 6th August and had a ball! I really enjoyed it and although I was dreading the swim it was actually my favourite part - I did it in 32 minutes - way faster than I had anticipated and this was definitely a reflection of the quality of the swim coaching I received from yourself and Scott.

I'm now a complete convert to Triathlon and am already contemplating how many/which ones I can realistically do next year (and how much faster I might be able to swim)!